Natural beautiful peaceful beach
Top luxury for a great price
Brela
Brela (population 1500) is situated 15 km north-west of Makarska, on the steep Biokovo foothills.
The population there is engaged in winegrowing, olive growing, growing of marasca cherries and figs, and tourism. Brela is the springs of beauty because of its natural features: a thick pine wood descending all the way to the beautiful gravel beaches and the clear sea. It has been known as one of the most attractive tourist places in Croatia for several centuries already. It is the winner of thr European ecological award "Blue flag" for years 1999-2001.
There is a small marina to harbour boats and yachts. Brela was raised at the site of Roman settlements (1st-4th century). For the time in history, it was mentioned by Constantine Porphyrogenitus (about 950.) with the name Berulia.
The today's settlement was raised in more recent times with the arrival of the population from villages at the foot of Biokovo. In Brela, there is the church of Gospa of Karmela, a significant monument of architecture from the 18th century, and the parish church of St. Stjepan from the 19th century. There is a medieval necropolis in the graveyard - today an archeological park - with eight tombstones decorated with reliefs.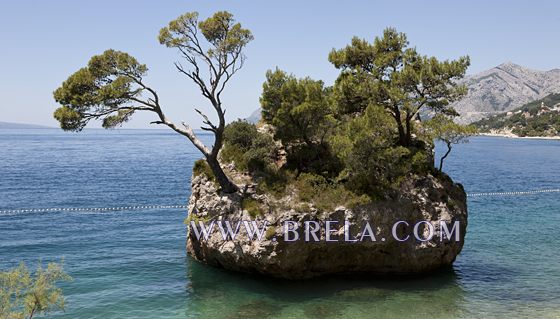 FEATURED APARTMENTS - SOME OF BEST OFFERS
Why book directly?
What you see is what you get (there are no so-called typical apartments as shown by agencies, hotels)
You communicate directly with host (not indirectly through the agency)
Price is mostly 20% to 40% lower, for the same apartment when booked directly (agencies and portals have large commissions)
For any complaints: contact directly the host, the tourist board, the tourist inspection which ensures a much faster resolution of the problem (than sending e-mail to agency, portal, etc... and waiting, waiting,...)
More pictures, more information,...
Reliable site, apartments are certified and approved to work, supervised by tourist board and tourist inspection
Google Map positions of houses and apartments without cheats (confirmed and checked personally before published)
You are communicating with a living person and not with a machine and artificial intelligence
0
+
HOUSES & VILLA'S & PENSIONS
0
+
APARTMENTS (DELUXE & STANDARD)
0
%
CERTIFIED AND REGISTERED ACCOMMODATION
0
%
LOWER PRICE COMPARED WITH AGENCIES AND BOOKING PORTALS